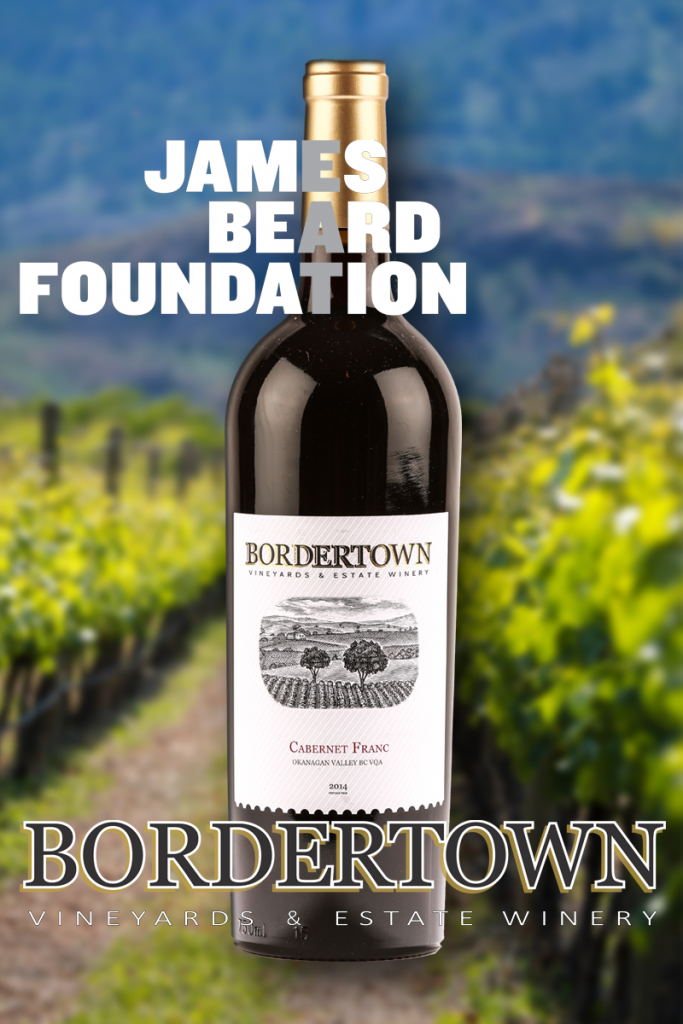 BRITISH COLUMBIA – The Wines of British Columbia and Vancouver Aquarium Ocean Wise have partnered to bring an exciting Canadian West Coast wine and culinary celebration to the James Beard House in New York on Wednesday, April 5, 2017.
Six wineries from two of British Columbia's wine regions, the Okanagan Valley and Similkameen Valley, and acclaimed Executive Chef Ned Bell of Vancouver Aquarium Ocean Wise are heading to New York City to decant, whisk, and flambé, their award-winning wines and culinary talent with distinguished media and guests.
"Wines of British Columbia is excited to partner with Chef Ned Bell in showcasing premium BC wines and sustainable BC seafood to one of the most exciting wine markets in the world," notes Miles Prodan, CEO and President of the BC Wine Institute. "This event offers an excellent opportunity for New York media and trade to experience the versatility of BC VQA Wines – meaning 100 per cent grown and made in BC – through exceptional seafood pairings created and prepared by one of Canada's most celebrated chefs."
BC wine continues to gain traction among top wine critics and travel writers at home and abroad with recent international acclaim in Wine Enthusiast Magazine, Decanter Magazine, and The Drinks Business. "This is an exciting time for the BC wine industry as BC VQA Wines become more globally recognized for their premium quality," says Prodan. "Our wine industry has grown exponentially over the last few years attracting winemakers from across the globe who are creating highly sought after wines that are now breaking into the US market."
"I am incredibly honored to be cooking at the James Beard House this year! Showcasing BC's extraordinary wines and some of the best seafood in the world from right here in the Pacific Northwest! The opportunity to collaborate with some of the best wineries from our region and local Oceanwise seafood is a delicious dream come true for this Okanagan boy!"
The main event will be held over lunch, targeting key New York trade and media, and will be followed by a James Beard House member dinner that evening. The lunch and dinner will feature a chef collaborative menu showcasing the best of BC's sustainable seafood as Chef Ned Bell presents honoured guests with a multi-course feast complimented and paired with exceptional BC VQA Wines.
Hosted and led by the BCWI, Vancouver-based sommelier, wine consultant and writer Kurtis Kolt will emcee the event, taking guests on a virtual journey through BC's spectacular wine regions.
"We are excited to have Kurtis take the lead on the wine and food pairings. Named BC Sommelier of the Year 2010 and one of Vancouver's Top 40 Foodies under 40, Kurtis has worked with top Vancouver restaurants, led many BC wine programs, and has participated in numerous New York City events and judging panels; he is a great advocate to introduce the Wines of British Columbia to this exciting market," says Laura Kittmer, Media Relations Manager of the BC Wine Institute.
The outstanding menu features sustainable BC ingredients including spot prawns, Kusshi oysters, geoduck and pacific scallops, albacore tuna tataki,West Coast mussels and clams, BC salmon, Haida Gwaii halibut, and more. The dishes served will be heightened by fantastic wine pairings from Bench 1775 Winery, Black Hills Estate Winery, Bordertown Vineyards & Estate Winery, Little Farm Winery, Poplar Grove Winery, and Steller's Jay Brut.
Following the James Beard House events, British Columbia wineries will present 22 BC VQA Wines in an exclusive walk-around tasting at New York's trending wine bar Terroir Tribeca on April 6.
Access to the media lunch at the James Beard House and BC Wine tasting at Terroir Tribeca is by invitation only; guests include key wine trade, media, sommeliers and other VIPs interested in British Columbia Wine Country for tourism and investment opportunities.
Wines of British Columbia Participating Wineries
Bench 1775 Winery
Black Hills Estate Winery
Bordertown Vineyards & Estate Winery
Little Farm Winery
Poplar Grove Winery
Nk'Mip Cellars
Steller's Jay
Quick Facts – British Columbia Wine Industry
Exports of BC Wine have grown from $5.7 million in 2011 to $19.3 million in 2016 – an increase of 237 per cent.
There are more than 10,200 acres (4,130 hectares) of vines in British Columbia's five geographical indications.
BC's wine industry has grown from just 17 grape wineries in 1990 to 278 today.
Approximately one million tourists visit British Columbia wineries annually.
Wine was first made in BC in 1859 by a priest, Fr. Pandosy, for sacramental purposes.
The BC Wine Industry contributes $2.8 billion in provincial economic growth annually.
-30-
BACKGROUNDER
About British Columbia Wine Institute
Since 1990, the BCWI has played a pivotal role in taking BC's wine industry from a vision to an internationally recognized niche region producing premium wines and providing exceptional wine tourism experiences. The BCWI markets the wine and regions of BC; delivers quality trade, media and consumer tastings; and acts as the voice of BC's wine industry by advocating to government on behalf of industry that contributes $2.8 billion in provincial economic growth annually.
The BCWI represents all wineries in British Columbia to grow the premium market share for the Wines of British Columbia, while driving awareness of our world-class wines and tourism product – currently drawing 1,000,000 visitors with $600 million in tourism and tourism employment related economic impact every year. For more information about BC Wine Institute's programs and services, please visit: WineBC.com.
For details on BC VQA and the Wines of British Columbia, go to WineBC.com (consumer) or WineBC.org (media), like the Wines of British Columbia Facebook page and follo @WineBCdotcom on Twitter and Instagram.
About Chef Ned Bell and Ocean Wise
Executive Chef Ned Bell's cooking philosophy is plant & ocean to table. He is passionate about creating globally inspired dishes crafted with locally grown ingredients with an emphasis on health, wellness and sustainable seafood.
Ned took the helm of the Four Season Hotel in Vancouver and YEW Seafood kitchen when the restaurant launched a new sustainable seafood concept in 2011. Using his well-known passion, influence and enthusiasm, Ned quickly led the hotel to become 100% Ocean Wise and develop a reputation as a culinary leader making a difference. Within a year of the new concept launching, Ned was responsible for taking the restaurant into a new era of relevance with customers and media.  Guest covers, restaurant sales and catering revenue grew exponentially during Ned's five-year tenure in his role as Executive Chef and he raised YEW's profile as a leading sustainable seafood restaurant across the globe.
Ned's latest role as Ocean Wise Executive Chef will help further conservation program across Canada.  Bell also leads the culinary team at Vancouver Aquarium, one of the city's most coveted venues for special events and conferences. With the support of the Aquarium's Ocean Wise program, Ned Bell created Chefs for Oceans in 2014 to raise awareness about sustainable seafood by riding his bike across Canada. Bell's dedication to sustainable seafood has inspired many Canadian chefs to get involved in the cause – a movement that is having a meaningful impact on the way consumers think about the seafood they eat, where it comes from and how they, too, can help protect our oceans by making ocean-friendly seafood choices.
Ned was honored as Canada's "Chef of the Year" recipient for the 2014 Pinnacle Awards and was nominated with a Global Seafood Award for Advocacy at the 2015 Seaweb Seafood Summit in Malta as well as winning the 2015 Green Award for Sustainability by Vancouver Magazine.
About James Beard Foundation
The James Beard Foundation's mission is to celebrate, nurture and honour America's diverse culinary heritage through programs that educate and inspire.
Food matters. You are what you eat not only because food is nutrition, but also because food is an integral part of people's everyday lives. Food is economics, politics, entertainment, culture, fashion, family, passion… and nourishment. The James Beard Foundation is at the center of America's culinary community, dedicated to exploring the way food enriches lives.
A cookbook author and teacher, James Beard was a champion of American cuisine who helped educate and mentor generations of professional chefs and food enthusiasts. Today, the Beard Foundation continues in the same spirit by offering a variety of events and programs designed to educate, inspire, entertain and foster a deeper understanding of culinary culture. These programs include educational initiatives, food industry awards, an annual national food conference, Leadership Awards program, culinary scholarships and publications. In addition to maintaining the historic James Beard House in New York City's Greenwich Village as a "performance space" for visiting chefs, the Foundation has created a robust online community and hosts conferences, tastings, lectures, workshops, and food-related art exhibits in New York City and around the country.
The James Beard Foundation is a national not-for-profit organization based in New York City.