Article from http://johnschreiner.blogspot.ca/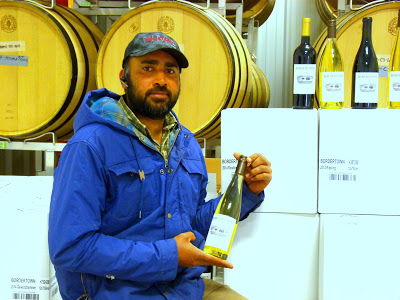 Early in September, Lieutenant Governor Judith Guichon will be at Bordertown Vineyards, just north of Osoyoos, to present one of the 2016 awards of excellence in wine.
It is a remarkable achievement for Bordertown, which opened just 16 months ago. It is not unprecedented, but it certainly is rare, for a new winery to win this award with a wine from its initial vintage. Beginner's luck? I don't think so. The scores on the wines below suggest they are well grown and well made.
Bordertown is owned by an energetic agriculture entrepreneur named Mohan Gill. Born in India in 1976, he came to the Okanagan with his parents in 1993. "March 10, 1993," he says with striking precision.
"I went to Oliver Secondary School," he recounts. "Then I started working." It seems he has never stopped working. He bought his first orchard (with an older brother) in 1996. He took other opportunities to expand until he and his brother today operate 110 acres of orchards in the Okanagan.
To accelerate his business, he began delivering his own fruit to Vancouver buyers in 1999 with his pickup truck. He turned over fruit delivery to another agency in 2007 but he still packs cherries, peaches and apples under his own brand. His customers include several major retailers.
Mohan dipped his toe into viticulture by planting two acres of grapes in 2005. A quick study, he was comfortable enough with grape growing that he expanded to 20 acres in 2007.
As he had done with tree fruits, he has continued to increase his vineyard holdings. He now grows 38 acres of grapes at two Osoyoos vineyards and another 50 acres in a Peachland vineyard. He has been selling grapes both to major Okanagan producers and to smaller producers, including Mark Simpson of B.C. Wine Studio. Mark was one of the people who encouraged Mohan to expand into winemaking.
Encouragement also came from Jason Parkes, the winemaker at First Estate Winery in Peachland, who launched the winemaking at Bordertown before turning the cellar over to consultant Daniel Bontorin.
In its debut vintage in 2013, Bordertown made close to 3,000 cases of wine. Bordertown's production has jumped to about 10,000 cases, transforming Osoyoos's newest winery into one of its largest as well. Mohan also continues to sell grapes to other producers.
"On this property I am growing five different varieties: Chardonnay, Riesling, Muscat, Gewürztraminer and Viognier and Pinot Gris," Mohan says, referring to the vineyard near the winery. He also has Merlot, Cabernet Franc, Cabernet Sauvignon, Pinot Gris and a young block of Grüner Veltliner.
The Peachland vineyard, a cooler terroir, is planted primarily in white varieties: Chardonnay, Pinot Gris, Pinot Blanc and Riesling.  He also grows Pinot Noir there.  As a result, the winery offers an extensive portfolio.
Here are notes on Bordertown's current releases.
Bordertown Vineyards Pinot Gris 2015 ($19) The wine begins with aromas of peach and apple. On the palate, the wine is full-bodied with layers of tropical fruit flavours, leading to a persistent finish. 90.
Bordertown Vineyards Pinot Blanc 2014 ($19). I have not changed my mind about this wine since a previous review; and I was pleased to taste it again at the winery. It is encouraging to see an excellent wine from a variety sometimes overlooked by consumers. The wine has aromas and flavours of apples. It is crisp and fresh on the palate with a dry finish and with good minerality. 90.
Bordertown Vineyards Muscat 2015 ($22). This wine begins with a delicately floral rose petal spice on the nose, leading to an exotic mix of flavours ranging from Asian pear to Mandarin orange. The wine has a classic note of ginger on the finish. 91.
Bordertown Vineyards Grüner Veltliner 2015 ($22). This is the great Austrian white variety that has gained a foothold in the Okanagan of late. So far, Bordertown is just one of four BC wineries with the variety. The wine has aromas of melon, green apple and pineapple which are echoed on the palate. A good mineral backbone adds to the weight of this crisp and dry white. 91.
Bordertown Vineyards Gewürztraminer 2015 ($20). This wine has aromas and flavours of lychee and grapefruit with a spicy finish. 89.
Bordertown Vineyards Riesling 2014 ($19). Tangy with bright acidity, this wine is packed with lemon and lime flavours. The finish is dry. 88.
Bordertown Vineyards Living Desert White 2015 ($18 for 1,200 cases). This is a blend of 63% Pinot Gris, 27% Riesling and 10% Orange Muscat. The wine begins with aromas of new-mown hay mingled with pear and apple. This is echoed on the palate. The wine is crisp, with a dry, spicy finish. 90.
Bordertown Vineyards Chardonnay 2015 ($N/A). The wine begins with aromas of tangerine and apple, leading to cantaloupe and pear, with a light buttery note on the finish.  89.
Bordertown Vineyards Chardonnay 2014 ($27). This wine was fermented and aged eight months in French oak. That and full malolactic have given this wine the richness of a California chardonnay. It has aromas of oak mingled with marmalade. On the palate, there are opulent flavours of marmalade, with notes of butter and toasted oak on the finish. 90.
Bordertown Vineyards Living Desert Red 2013 ($25). This wine won a Lieutenant Governor's Award of Excellence. It is a blend of 75% Cabernet Franc and 25% Merlot. The lots were aged in new and used French oak barrels. A very subtle hint of oak mingled with aromas of blackberry and black current. On the palate, there are savoury flavours of red and black fruit, with a touch of fig and dark chocolate on the finish. 92.
Bordertown Vineyards Cabernet Franc 2014 ($24). Here is a wine with the structure to age and to develop the bold and brambly flavours. The savoury notes on the finish seem to reflect terroir; the same spicy/sandalwood notes are in Living Desert Red. 90.
Bordertown Vineyards Syrah 2014 ($30).  The wine begins with aromas of plum and black cherry. On the palate, there are flavours of figs, black cherry, leather and chocolate with notes of black pepper on the smoky finish. 92.