Osoyoos – a spectacular oasis for wine lovers.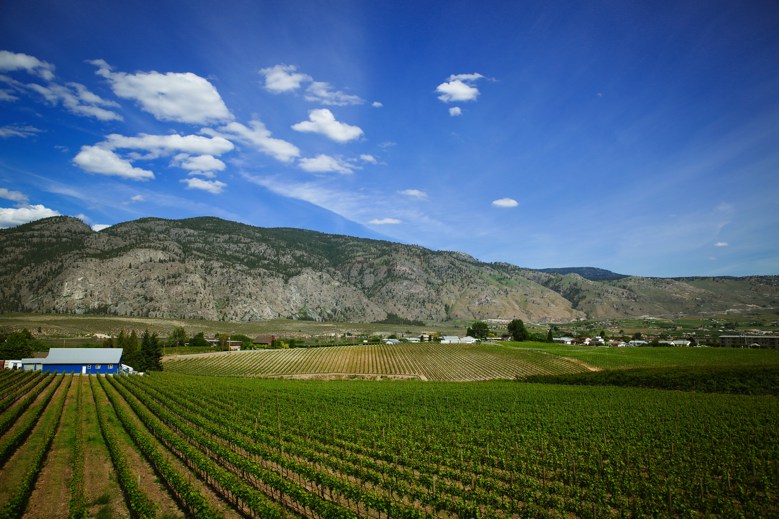 Osoyoos is a long-established resort town that takes full advantage of its location on the shores of Osoyoos Lake (reputed to be the warmest in Canada) and its climate with hot dry summers and short mild winters.
Dry arid heat, unreal scenery, world-class wines and right-from-the-garden-fresh food.
There are so many things to do in Osoyoos- water sports, hiking, biking, fishing, golf as well as wildlife viewing and bird watching. And don't forget wine tasting! What more could you ask for from a little summer getaway? Find out more at
http://www.destinationosoyoos.com/
Always Talked About – Osoyoos Weather!
Osoyoos has a semi-arid climate with very hot, dry days in the summer and very mild days in the winter. Osoyoos Lake is the warmest fresh water lake in Canada, in winter it never completely freezes over.
Osoyoos receives an average rainfall of less than 12 inches per year. The desert plants and animals of this area are found nowhere else in Canada. Osoyoos is Canada's only desert.  It has sophisticated resorts, championship golf courses, the nation's warmest lake, and a wide range of cultural, intellectual and artistic experiences. The city is set on a rugged landscape of hills and grasslands that invite hiking, mountain biking and wildlife viewing within easy access to the city.
Come visit and enjoy the wine you love.
We look forward to seeing you at Bordertown Vineyards.
[trx_line style="solid" align="center" sep="yes" width="90%" bottom="90″ top="90″]
[trx_title type="4″ align="center" weight="700″ bottom="50″]JOIN OUR MAILING LIST and get exclusive deals you won't find anywhere else – straight to your inbox![/trx_title][trx_emailer group="T-REX" open="yes" align="center"]
Please feel free to tour our estate vineyards, our wines, and our recent news.
[trx_columns columns="3″][trx_column_item align="none"][trx_button text="Buy our wines" skin="dark" style="bg" size="big" fullsize="yes" align="none" link="http://bordertownwinery.com/wordpressshop/" title="Where to buy" target="no" top="50″ icon="none"][/trx_column_item][trx_column_item][trx_button text="Latest News and Events" skin="dark" style="bg" size="big" fullsize="yes" align="none" link="http://bordertownwinery.com/wordpressnews-and-events/" target="no" top="50″ icon="none"][/trx_column_item][trx_column_item][trx_button text="Our Estate Vineyards" skin="dark" style="bg" size="big" fullsize="yes" align="none" link="http://bordertownwinery.com/wordpressvisit-us/" title="Where to buy" target="no" top="50″ icon="none"][/trx_column_item][/trx_columns]