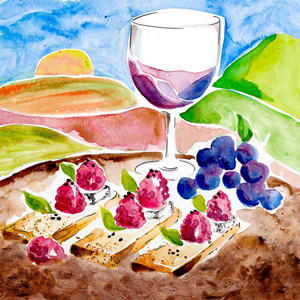 Bordertown really enjoyed our very first time participating at the  farm-to-table extravaganza Okanagan Feast of Fields in Kelowna!
We received a lovely thank you from Alison Love, FarmFolk CityFolk's Okanagan Feast of Fields Coordinator.  Check out the amazing video!
Thank you to everyone who participated and helped to make our 8th Annual Okanagan Feast of Fields such a great success!  Despite the extremely hot day, our guests were excited to enjoy the best food and beverages the valley has to offer.  We are very grateful to our hosts, the Paynters, Sheri, Travis, Nigel and Hayley of Off the Grid Organic Winery.  They were wonderful hosts and provided a beautiful venue for our event.  Also thanks to our 30+ volunteers who helped pull the event together by setting up the venue, unloading vehicles, helping to carry your load and ensuring our guests and all of you were happy.
We are still pulling together the final numbers from the event, but every dollar raised on Sunday helps FarmFolk CityFolk support sustainable agriculture and local food in the Okanagan.  A big thanks to our sponsors Choices Markets, Salt Spring Coffee, Nature's Fare Markets, Edible Vancouver, Valley First and Canadian Liens and Uniform Service for their contribution to the event.
We are considering moving Okanagan Feast of Fields to a September time frame as some of the feedback I received indicated that our August is now so full of activities, busy restaurants and businesses, and staff shortages  that it's a challenge to continue to support this worthwhile fundraising event.  A survey will be distributed in a few weeks, so please share your feedback on a potential date change as we move forward with securing a date and subsequently a farm for 2017.
Again, thank you for your support and I look forward to working with you again in the future.
Brayden, an intern with FarmFolk CityFolk prepared a brief video below of our afternoon – Enjoy
https://www.facebook.com/FarmFolkCityFolk/videos/1164090386945511/
Alison Love
Okanagan Feast of Fields Coordinator
FarmFolk CityFolk
www.farmfolkcityfolk.ca
www.feastoffields.com