Discover Bordertown's Wines, Grown in Osoyoos- Taste the Place.
We are really excited that Bordertown has received funding from the BC Agrifood's Buy BC Partnership.
Bordertown has become a popular destination for wine tourists visiting wine country. Our wines are proudly produced, processed and packaged in Osoyoos, BC. 
For Bordertown, the fall shoulder season is a small window still brings beautiful weather and long daylight hours—along with thinner crowds, cheaper hotels and flights, and an enchanting locals' vibe. In addition to peak season, we want to develop integrated marketing campaigns to encourage BC residents to travel to Osoyoos year round. We want to market Osoyoos as a four season destination. We believe there is a real opportunity to boost tourism by attracting more visitors in these quieter times.
We're looking to promote our 100% B.C.-grown award-winning wines to both connoisseurs and new explorers of B.C. wines.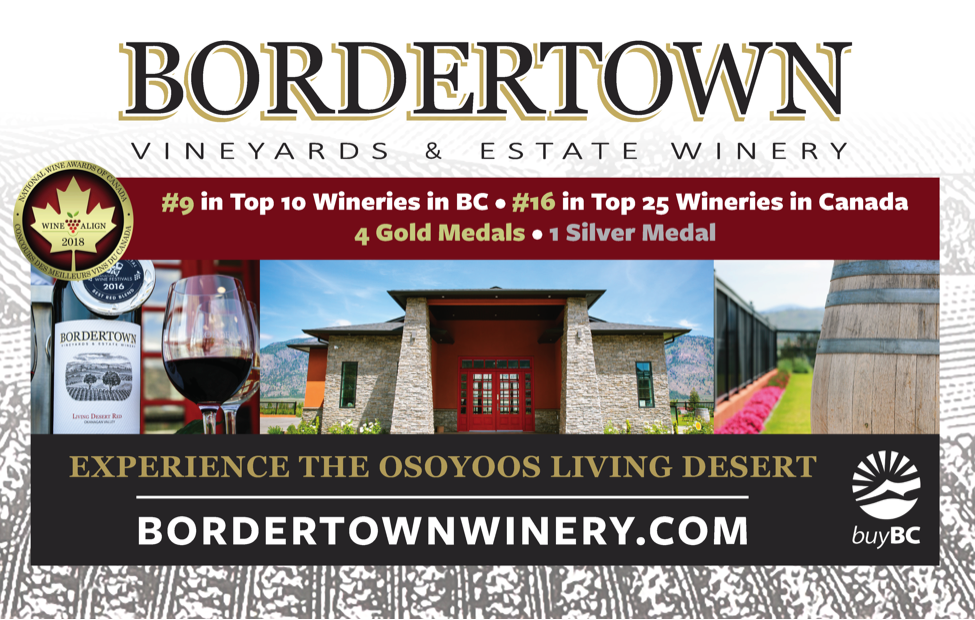 Buy BC Partnership funding
Buy BC Partnership funding will help Bordertown encourage British Columbians to try our award-winning wines and to promote new ways customers can buy Bordertown's wines, for example, using our website to make online purchases and take advantage of web-based sales.
We will also use the funding to promote visiting Osoyoos year round. To capture the attention of our biggest fans. We will actively promote the convenience of buying wines online, right from the vineyard to our Tasting Room visitors.
Buy BC funding will also help us promote Bordertown's wines to B.C. restaurants and wine stores, to reach new buyers and partner with other businesses in promoting B.C. foods and wines.