Our Winemaking Philosophy
Bordertown Vineyard and Estate Winery's vineyards are as varied as the wines and wine styles. Our overriding winemaking philosophy is to express the individuality of each vineyard and to craft the best wines that demonstrate the uniqueness of the Osoyoos area.
Since our humble beginnings our winemaking philosophy at Bordertown Vineyard and Estate has focused on maximizing fruit quality in the vineyard, along with producing wines that balance power and elegance.
Our winemaking philosophy is managed by a highly experienced team with a shared vision and passion for winemaking.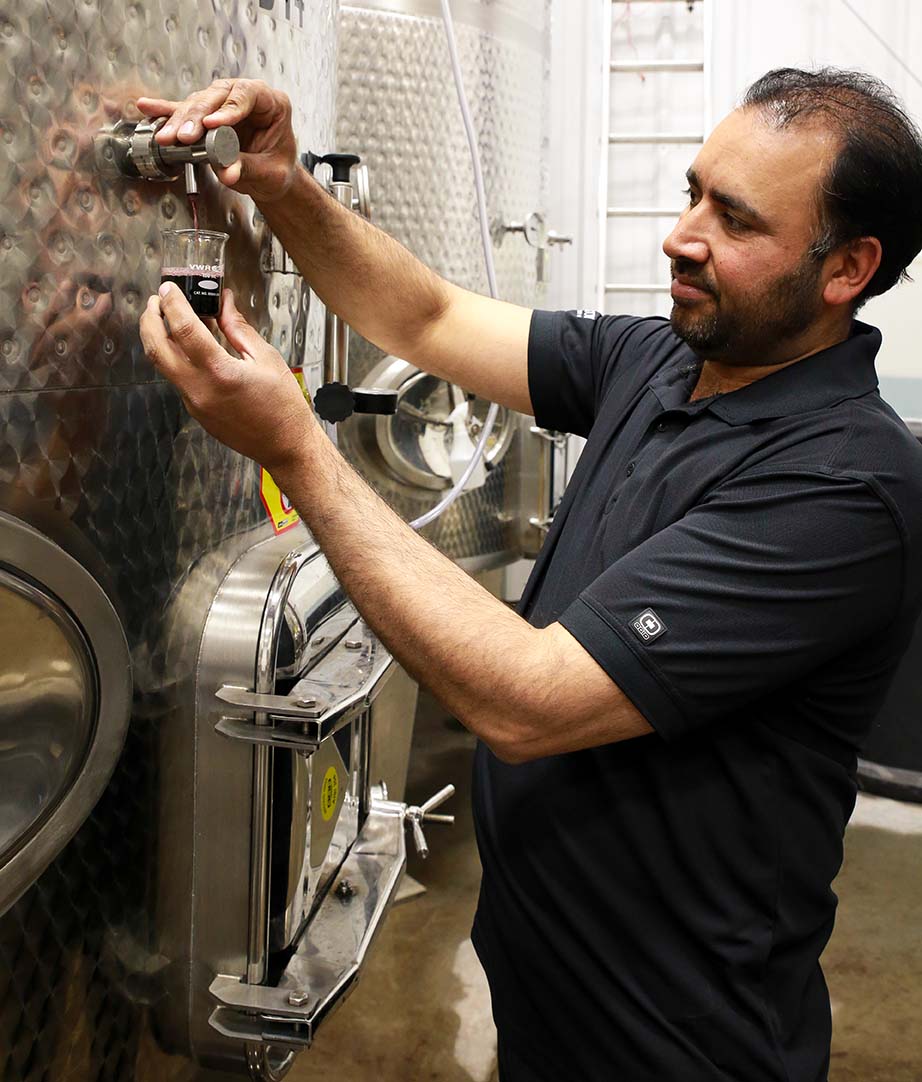 The Process
In the vineyard all aspects of viticulture are managed with skill and precision, which includes a regular assessment of vineyards throughout the growing season. Daniel is in a constant dialogue with the vineyard team that is crucial to the performance of the vineyards and quality of the fruit.
In the winery, the meticulous approach to winemaking continues. All batches are handled separately to allow close monitoring of the progress of each parcel: a minimal intervention approach is employed, allowing as much of the vineyard to be expressed in the wines; appropriate use of winemaking techniques to add complexity depending on the varying needs of the variety; and the careful use of high quality oak.
Controlling the winemaking process is critical in making premium wine. We have a state-of-the art winery and a temperature controlled barrel room. The winery, with modern refrigeration and storage equipment, ensures optimum treatment of our fruit.
We process in small batches which are treated separately, evaluated and blended – a truly boutique operation.
The winery houses the best of new technology which is coupled with proven traditional winemaking techniques. Ultimately, our goal is to preserve the essence of the fruit that goes into our wines for optimum flavor profiles.
Sustainability
Sustainable Winegrowing is a Family Tradition
We are passionate about the environment. We focus on producing quality wines, incorporating sustainable land management and environmentally friendly viticultural practices.
Mohan Gill has a strong connection to the land.  He believes land must be looked after in a sustainable manner. An environmentally conscious company, we're constantly striving for best vineyard practices to maximize the potential of the vineyard. We're committed to improving our soils, reducing waste and water consumption and minimizing our carbon footprint.
Soil health and water conservation is fundamental for sustainability. All good wines begin in the vineyard. In the vineyard, we use of the most eco-friendly practices possible within the limits imposed by the growing season. Our farm machinery is lightweight, reducing fuel consumption and potentially harmful ground compaction.
Sustainability is always top of mind. From vineyard management to marketing, we are committed to improving our environmental practices. Ultimately, each element plays a vital role in the integrity and quality of our wine.