BORDERTOWN CIDER & WINERY



WINERY CURRENTLY OPEN FOR PURCHASES ONLY | 11AM – 4PM DAILY
WINERY WILL BE CLOSED DECEMBER 20, 2023 – JANUARY 31, 2024
CASE SALE
Our famous red wine case lot sale is on until December 14!
Discover a curated selection of red wines now on exclusive sale, offering a unique opportunity for enthusiasts and connoisseurs alike.
Give the gift of splendor this season and treat your clients and colleagues to a case of wine!
Visit Us
Bordertown Cider & Winery is is nestled in the heart of Osoyoos, a border town that has long been celebrated for rich soil and brilliant sunshine.

For Mohan Gill and his family, the opening of Bordertown Vineyards and Estate Winery in May 2015 was the culmination of a lifetime dream.
Our commitment to producing the finest wines and a stunning wine tasting room have made Bordertown a destination for wine, food and travel lovers. The diversity of exposure, microclimate and soil type allow us to produce 14 very different varietals. All wines are estate grown and VQA certified.
We invite you to visit us in our beautiful Mission style Tasting Room in Osoyoos, BC.
We're Open 7 Days a week from 11am – 4pm starting October 1, 2023.

CLOSED DECEMBER 20, 2023 – JANUARY 31, 2024
Our Wines
At Bordertown Vineyards you can expect to find red and white wines of distinction. Our portfolio of artisan-produced wines has intense flavour, character and interesting complexity. We are committed to crafting wines that are true to varietal character.
Our wines breathe the stories of our family and the lands that made them while truly expressing the best of what these varieties have to offer in the Osoyoos region. You will love our robust, intense, rich luxurious reds. While reds proved to have been an early forté, we produce a broad range of both white and red varieties, and a Rosé made from Cabernet Franc.
"Bordertown has a wealth of cabernet franc vines, enabling them to divert a few to a rosé that winemaker Daniel Bontorin says is made in the classic French Provence style."
– Anthony Gismondi
BORDERTOWN HARD PRESSED APPLE CIDER
Craft cider is on a roll- it's catching on, and for good reason.
We are excited to announce the arrival of our first hard cider, Hard Pressed!
What's the story behind Hard Pressed Cider?
Hard Pressed is pressed, fermented and packaged using only the juiciest, fresh-pressed, apples, home grown in our delicious orchards in sun-drenched Osoyoos, BC.
We're a family-run business where quality is the number one priority. We're laser-focused on one goal: to make the best hard cider there is.
We set out to make cider that truly captures the flavour and aroma of the juicy apples that we grow – a delicious cider made using artisan methods.
In our world, flavour is everything. Surprising flavour, from a secret blend of our very best apples- a true taste of Osoyoos!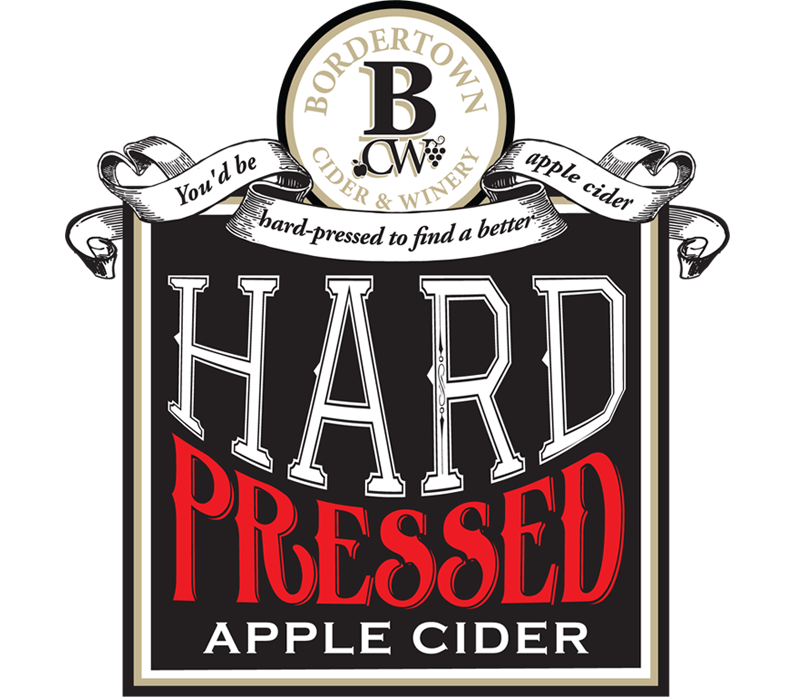 Bordertown Cider and Winery presents its tall can Hard Pressed Apple Cider a true reflection of the delicious apples grown in the South Okanagan.
Hard Pressed Cider™ is pressed, fermented and packaged using only the juiciest, fresh-pressed apples, home grown in Bordertown's orchards in sun-drenched Osoyoos, in BC's Okanagan Valley.
Hard Pressed uses heritage apple varieties, each contributing in its own special way to a cider that's refreshingly dry, with fleshy apple fruit. It's downright delicious!
Bordertown extends its flawless reputation for high quality estate wines into the production of high quality cider, using the same care and attention in growing and processing its apple varieties as it does with its our grape varietals. The result is a deliciously crisp, dry cider that shows off delightful, lip-smacking, thirst-quenching, lush apple fruit. It's cider at its absolute finest.
You truly would be hard pressed to find a better cider!