[trx_line align="center" sep="yes" width="90%" top="90″ bottom="90″]
Welcome to the home of Wine & Adventure! Bordertown Estate Winery and Vineyards is located in the heart of picturesque Osoyoos.  We have put together an intimate, personalized, livingroom style tasting room and look forward to your visits.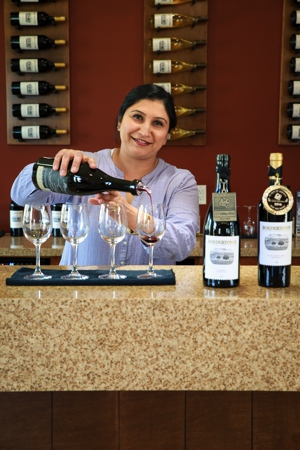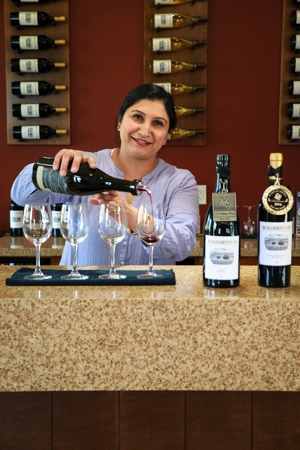 We invite you to visit us in our beautiful Mission style tasting room in Osoyoos, BC. Combining contemporary design with historical charm, we welcome guests to experience the true heritage of the Osoyoos wine region. Surrounded by mountain ranges, vineyards and Osoyoos lake, the area is majestic by nature.
There's no better place to enjoy Bordertown wine than right in our Tasting Room. Feel free to visit and try our wines, or sit back and relax with a glass of wine while overlooking the vineyards and enjoying the weather.
Visit us and enjoy the elegance and casual pace of our Tasting Room and Wine Shop. Why not relax and let one of the experienced tasting staff guide you through the range of handcrafted wines currently on release. Open 7 days each week,  our Tasting Room features an opportunity to taste our estate-grown wines. Tastings are available everyday from 10am – 6pm. Join us!
With five wines produced on-site in our state-of-the-art winemaking facility, all on a property surrounded by sustainably farmed vineyards, we are proud to offer a variety of Wine Experiences hosted by our educated and entertaining hospitality staff.
In our new Tasting Room and Wine Shop you'll find a knowledgeable and inviting staff eager to make your winery experience memorable. The warm ambiance makes it easy to relax and enjoy life's simple pleasures.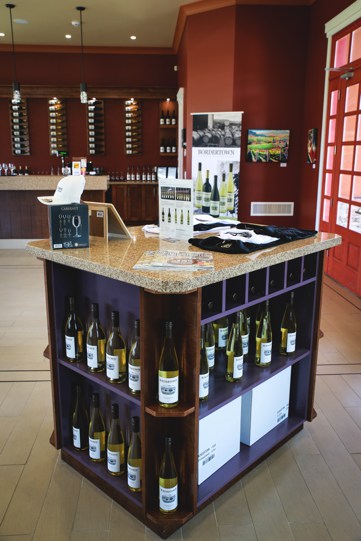 Our wine tastings of the full range of estate grown wines are complemented by the 360-degree view of vineyards. Our friendly, knowledgeable Tasting Room staff offers a warm welcome to all visitors ensuring a memorable visit.
Taste, feel and discover our wines. Whether it's your first time wine tasting or you're an avid collector, you'll find an experience to suit your taste!  Enjoy the friendly atmosphere, gorgeous surrounds and be treated to a premium tasting. We look forward to sharing our distinctive wines.
Bordertown Vineyard and Estate Winery is the place to go for a memorable wine tasting experience. The inviting and relaxed vibe here will make you feel like you are visiting family friends in the country. We'll tell a story or two and we hope to share our love for small handcrafted wines with you. All of our exquisite wines can be savoured and purchased at the estate winery.
In our expansive, new tasting room, guests can enjoy a selection of elegant, accessible wines, while taking in views of acres of lush vineyards and majestic trees.  Our patio provides a focal point for casual conversations.  While you visit, why not take the family for a picnic.
[trx_line align="center" sep="yes" width="90%" top="90″ bottom="90″]
Join Us for a Winery Tour
Our Tour and Tasting gives you a behind the scenes look at the world of winemaking at Bordertown Winery and Estate Vineyards. See the path our grapes follow from vineyard to finished wine. We look forward to your visit !
Book a tour and tasting.   For Tour and Tasting information or to book a visit, please call 1.866.949.4210
Where to find us
Bordertown Vineyard and Estate Winery is located at 9140 92nd Avenue, Osoyoos, BC, V0H-1V2
Click here to view the map.
Phone
(250) 498-9976
1.866.949.4210
Hours
From May to mid-September: The Tasting Room is open 7 days a week from 10:00 am to 6:00 pm.
Winter Hours starting September 14: The Tasting Room is open 7 days a week from 11:00 am to 4:00 pm.
Winery closed from December 24th – January 2nd for the holidays.
Groups
Groups welcome, please call in advance to make a booking.
[trx_line align="center" sep="yes" width="90%" top="90″ bottom="90″]
[trx_title type="4″ align="center" weight="700″ bottom="50″]JOIN OUR MAILING LIST and get exclusive deals you won't find anywhere else – straight to your inbox![/trx_title][trx_emailer group="T-REX" open="yes" align="center"]
Please feel free to tour our story, our wines, and our recent news.
[trx_button text="Our Story" size="big" fullsize="yes" link="http://bordertownwinery.com/wordpressour-story/" title="Where to buy" target="no" top="50″ skin="dark"]
[trx_button text="Buy our wines" size="big" fullsize="yes" link="http://bordertownwinery.com/wordpressshop/" title="Where to buy" target="no" top="50″ skin="dark"]
[trx_button text="Latest News and Events" size="big" fullsize="yes" link="http://bordertownwinery.com/wordpressnews-and-events/" target="no" top="50″ skin="dark"]