Bordertown Cider & Winery is nestled in the heart of Osoyoos, a border town that has long been celebrated for rich soil and brilliant sunshine.
Do you love interacting with guests? Do you have a passion for wine?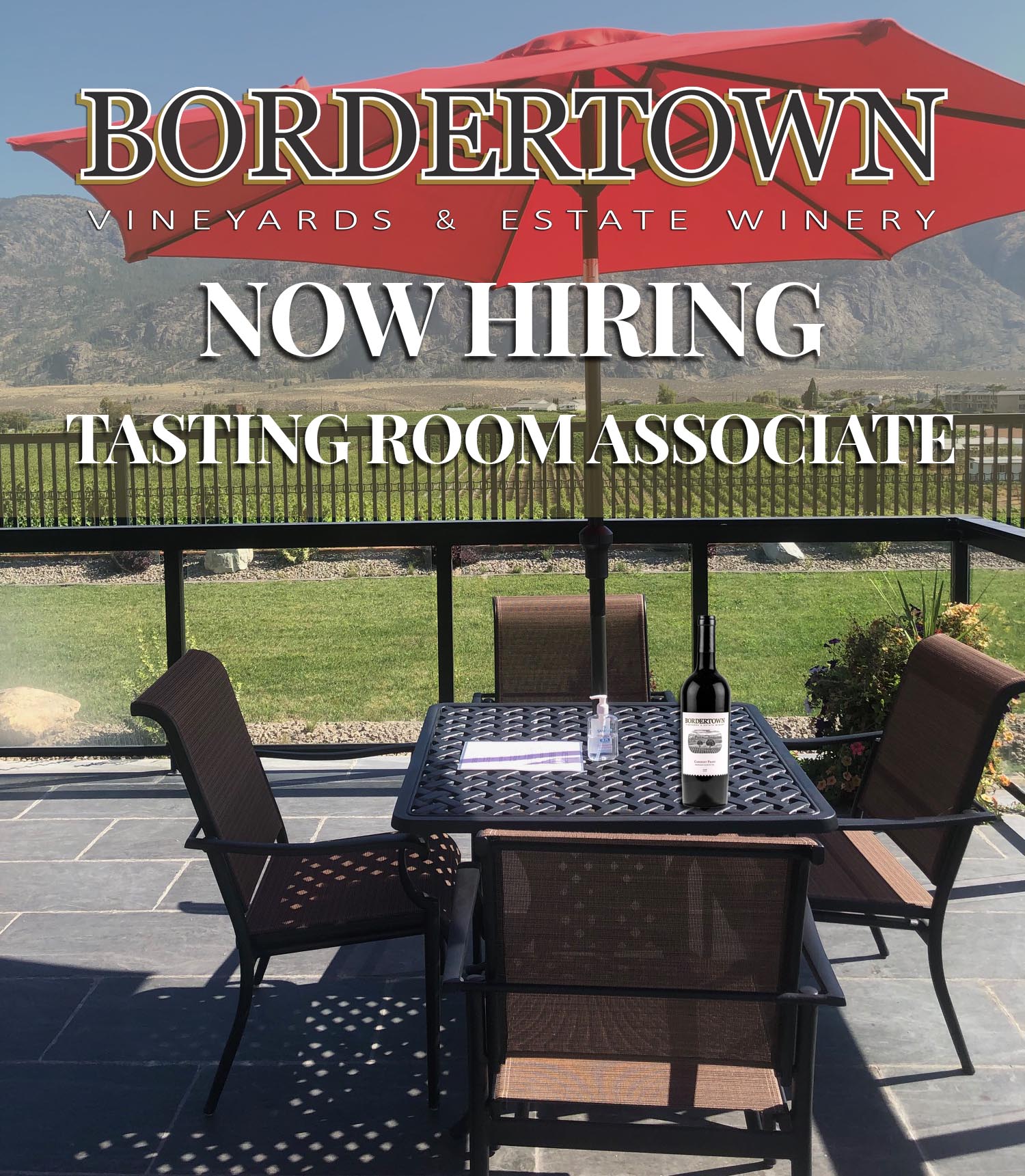 Bordertown's Tasting Room Associate represents our brand and provides the energy and enthusiasm for delivering an exceptional experience to our guests.
Help create the experience our guests remember. From the moment they arrive, you have a direct impact on the lasting memories by providing an exceptional tasting experience and beyond.
We are seeking a full time confident, energetic, and professional Tasting Room Associate.
We are also seeking a part-time Tasting Room Associate for our upcoming busy guest season.
Must have outgoing personality and the ability to simultaneously meet sales goals while providing superior customer service experiences.
Must be willing to work weekends, holidays and at special events as required.
Hours of work: 10 am to 6 pm (longer hours when necessary)
Days of week:  Work schedule is Thursday – Monday from 10am-6pm (Tuesdays and Wednesdays off). The works schedule is tentative.
Responsibilities:
Providing an exemplary tasting room guest experience including hosting wine tastings, sharing knowledge regarding our story, philosophy, award-winning wines and vineyard.
Representing Bordertown in a professional, courteous and friendly manner to develop and solidify customer relationship
Performing all aspects of tasting room operations, including accurate operation of cash register, inventory management, stocking, and cleaning
Promoting Tasting Room sales and online sales.
Promoting the benefit of joining Bordertown's Living Desert Wine Club
Attending select Bordertown onsite and offsite consumer tasting events.
Maintaining a high standard of cleanliness and presentation of the retail area and tasting room and patio.
Job Requirements
Wine knowledge and passion for our products – while experience in a tasting room isn't required, it's a bonus
Dependable and punctual
The ability to multitask in a busy environment.
Previous sales or hospitality experience
Previous tasting room experience is a bonus and an interest in wine (WSET Level 1 Certificate is an asset)
Excellent communication skills and ability to speak to large groups
Weekend shifts are mandatory, and will be the primary hours for this position Ability to stand for long periods of time, and routinely lift up to 40 pound
Must be 19 years of age
Serving It Right certificate
COVID-10 Considerations
•               Follow COVID-19 Safety protocols to keep guests and employees safe.
(www.bordertownwinery.com)
To apply, please send your resume to cindy@bordertownwinery.com